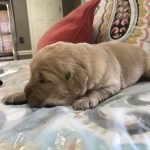 Golden retrievers,  AKC Registered  – Our   Puppies have gone to Mississippi, Alabama. Arkansas, Maine, Tennessee, Texas, Louisiana, Kentucky, Florida, North Carolina, Arizona and  Connecticut and Las Vegas.  We began breeding Golden's  in 2016,  our 1st red golden Lacey came into our lives from Santa back in 2000 an was beside me an my family for 12 years, never missed a trip with us, cause when the  suitcase got packed she was waiting at the door, she loved us all and it broke all of our hearts when it was her time to leave us, but she has a special place in our home on a shelf  to be forever remembered. 
Contact Info: call or text (662)882-9956 email:parkersretrievers16@gmail.com
OPTIONS  FOR PURCHASING AKC GOLDEN RETRIEVER PUPPIES OR CKC Registered Golden Doodles
Full AKC with breeding rights; microchip  and goodie bag  $1100
Full AKC  with breeding rights,  No microchip or goodie bag $1000
Limited  Akc registration, no breeding rights, with microchip and goodie bag $800
Limited AKC , no breeding rights, with no microchip or goodie bag $ 700.00
*Microchip- is prepaid, all you have to do is register it.
Goodie Bag has dog food, treats, bone, toy, mom scent blanket, leash, shampoo
A non-refundable deposit* of $200.00 is required, to reserve  a puppy  with balance less deposit due at pickup.
We also have a waiting list to be notified when they arrive to see what else is available after all deposits have been met, but to secure a place its best to put a deposit down.
Puppy reservation:  we accept non-refundable deposits* on our puppies, after receiving your deposit you will be put on the reserved list,  and  picking order comes from the order I receive  the deposits.   We will have a puppy pick up day at 7-8 weeks of age on a Saturday at different times starting with 1st pick for both males and females, that's if you have not chosen yours prior by pictures or videos,  If you haven't chosen by pictures or video' s and can't make it to pick up day we will help you choose one based on your preferences.  Puppies delivered to you will have to be chosen by pictures or video's in order of deposit picks. Everyone has a preference of male or female and maybe color or size being the next  most important decision in choosing your puppy,  so being able to reserve a male or female is your first choice, and then being able to choose from the available puppies in the  litter is important to you as the buyer.   Our puppies are raised in our home with lots of love, hugs ,and kisses,  wormed at 2, 4, and  6 weeks with strongid-t from vet and at 8 weeks  for 3 days with panacur c for giardia and worms and given 1st set of shots at 6 weeks and a coccidia preventative.  Puppies will be vet checked before going to their new homes.  If Microchipped we make it easy to register  with paperwork and  microchip is  prepaid with a lifetime contract  unlike some that are a yearly renewal. Puppies will Be ready for pickup at 7-8 weeks of age and after they have received their 1st shots and are fully weaned,  if not picked up at 8 weeks there will be a charge for extra wormings an shots and kennel fees that will be due, I understand there might be a vacation planned etc., that might be needed to work around.   I I do not ship by air but will ship door to door at buyers expense at 8 weeks, I can get you a quote for shipping or you can get one of your own,  and within a reasonable area meet for .30 per mile. We are located in Northern Mississippi, but are close to Tennessee, Arkansas and Alabama
*Deposit is non-refundable, but if the litter happens to not  have the sex you reserved the non-refundable  deposit can be put toward next litter due or refunded. If something unexpected comes up on your end the Deposit can be put toward another litter.
Golden retriever's 
Males – 1. Deposit 2:  3: 4: 5:
Girls: 1: deposit 2:  3:  4:
New in 2022, I will accept for deposits only: Zelle, cash, PayPal,  Venmo, Personal check, or  postal money order….
Final payment at pickup is cash only… Please contact me for my information prior to making deposit or my address for mailing.    Deposit:  $200.00, after deposit is received I will send you a receipt and you are put on the reserved list.
After deposit is made, you are welcome to make weekly payments to help with the expense of buying your puppy until pickup.
Moma's get vitamins during the year and extra nutrition during lactation,  I also use the Misty Method for potty training the puppies beginning at 3 weeks, making it easier for new owner to potty train their new puppy. They will also start learning to use doggie door from my bedroom where they are born an raised to play area following mom.
Golden's do make great family pets, but it takes a lot of time to get there, crate training is best, starting out slowly, don't expect or require them to be crated all day and night, it's not fair to them, they can't hold their bladder, etc for long periods of time, they require love an training an exercise. They learn by repeating it over an over till one day they get it, patience, time an training will get them to that point of being the best, and in return you get love, faithfulness, companionship and a furry friend for life.