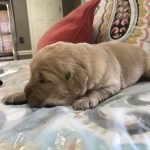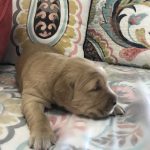 Golden retrievers,  AKC Registered       Puppies have gone to Mississippi, Alabama. Arkansas, Maine, Tennessee, Texas, Louisiana, Kentucky
Contact Info: call or text (662)882-9956 email: parkersretrievers16@gmail.com for more info
Upcoming litter:   Gracie an Charlie – Breeding October, Puppies ready for new homes late January, Early February 2020.
Reserved List: 1st pick female: Allison from MS
: Full Akc registration Price $850.00  Limited Akc registration ( no breeding rights) pet homes only,  will be $700.00,  A non-refundable deposit of $200.00 is required to hold an reserve your puppy, with balance less deposit due at pickup.
Puppy reservation:  we accept non-refundable deposits* on our puppies, after receiving your deposit you will be put on the reserved list,  and  picking order comes from the order I receive  the deposits.   You are welcome to come an look at the puppies at the appropriate time for choosing your puppy,  or I can send you updated pictures or a video. Everyone has a preference of male or female and maybe color or size being the next  most important decision in choosing your puppy,  so being able to reserve a male or female is your first choice, and then being able to choose from the available puppies in the  litter is important to you as the buyer.   Our puppies are raised in our home with lots of love, hugs an kisses,  they come with dew claws removed, wormed and 1st shots. Puppies will Be ready 7-8 weeks of age an after they have received their 1st shots an are fully weaned,  if not picked up after 8 weeks there will be a charge for extra wormings an shots and kennel fees that will be due.   Puppies go home with a litter-mom scent blanket a toy an box of puppy chow. I do not ship by air but will ship door to door at buyers expense at 8 weeks, I can get you a quote for shipping or you can get one of your own,  and within a reasonable area meet for .25 per mile. We are located in Northern Mississippi, but are close to Tennessee, Arkansas and Alabama
*If you change your mind or need more time, etc.,  the non-refundable  deposit can be put toward next litter due.
 I accept Pay Pal (please use between family & friends (no fees charged to me) the quickest way to get you on reserved list,  if you do  not use friends and family- please add 3% to your deposit to cover fees charged to me by pay pal, by cash or  a check  on deposits only,     Please contact me for my pay pal information prior to making deposit or my address for mailing.    Deposit:  $200.00, after deposit is received I will send you a receipt an you are put on the reserved list .
FINAL PAYMENT  is accepted by Pay pal ( same as above applies if not using friends and family, please add 3% for fees charged to me by pay pal) prior to pickup or cash only at pickup, No checks.
After deposit is made, you are welcome to make weekly payments to help with the expense of buying your puppy.
Bonnie gets oxymate at breeding changing over to oxy momma during lactation for her an her puppies, I also use the Misty Method for potty training the puppies beginning at 3 weeks, making it easier for new owner to potty train their new puppy. They will also start learning to use doggie door from my bedroom where they are born an raised to play area following mom. I worm at 2,4 weeks with vet wormer an 6 weeks for 3 days with panacur c for worms an giardia preventative, they begin coccidia prevention as soon as they start eating on their own, I send a two week supply home with the puppy, because stress of leaving litter can bring on coccidia within 2 weeks of leaving us, all of these are preventatives I use along with sanitary an proper conditions in raising the puppies to keep them healthy an off to a good start, their dew claws are  removed at 3 days by vet an 1st shots are given at 6 weeks.
Golden's do make great family pets, but it takes a lot of time to get there, crate training is best, starting out slowly, don't expect or require them to be crated all day an night it's not fair to them, they can't hold their bladder, etc for long periods of time, they require love an training an exercise. They learn by repeating it over an over till one day they get it, patience, time an training will get them to that point of being the best, an in return you get love, faithfulness, companionship an a friend for life by your side.
patience, time an training  will get them to that point of being the best pet, companion for life.
Please see Health Guarantee/Buyer Agreement Page